Canby's Cross
California State Historic Landmark 110
---
Plaque Photo: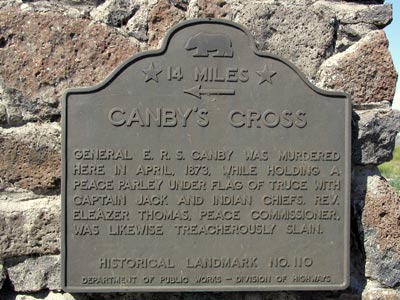 06/12/02
#110 Canby's Cross
General E. R. S. Canby was murdered here in April, 1873, while holding a peace parley under flag of truce wuth Captain Jack and Indian chiefs. Rev. Eleazer Thomas, Peace Commissioner, was likewise treacherously slain.
---
Site Photo: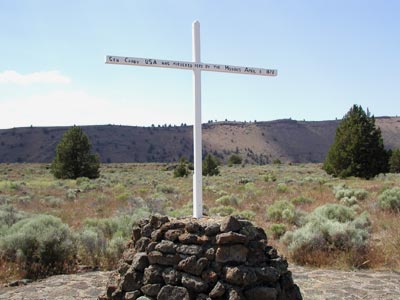 06/12/02

---
Location:
Lava Beds National Monument, 0.5 mi E of N entrance, 8.3 mi S of Tule Lake. Plaques located at SE and NW corners of the intersection of Hwy 139 (PM 44) and Co Rd 141, Newell.

GPS coords:
Site: 41° 49.094 N/121° 32.607 W
Plaque 1: 41° 52.780 N/121° 21.945 W
Plaque 2: 41° 52.692 N/121° 21.779 W



Return to other landmarks in Siskiyou county.
---


Please note: I have no connection to any organizations mentioned on this site.

Site contents copyright 1996-2002 by Donald Laird - All rights reserved

Send comments to:
Donald Laird