Casa De Pedrorena
California State Historic Landmark 70
---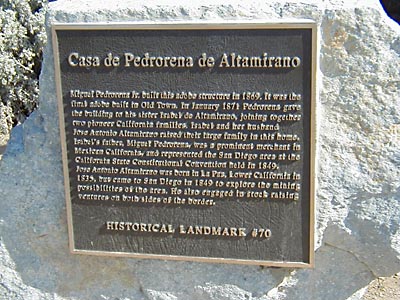 12/01/99
#070 Casa de Pedrorena de Altamirano
Miguel Pedrorena Jr. built this adobe structure in 1869. It was the final adobe built in Old Town. In January 1871 Pedrorena gave the building to his sister Isabel de Altamirano, joining together two pioneer California families. Isabel and her husband Jose Antonio Altamirano raised their large family in this home. Isabel's father, Miguel Pedrorena, was a prominent merchant in Mexican California, and represented the San Diego area at the California State Constitutional Convention held in 1849.
Jose Antonio Altamirano was born in La Paz, Lower California in 1835, but came to San Diego in 1849 to explore the mining possibilities of the area. He also engaged in stock raising ventures on both sides of the border.
---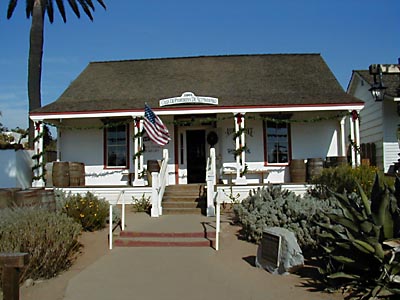 12/02/96

---
2616 San Diego Ave, Old Town San Diego SHP.



Return to other landmarks in San Diego county.
---


Please note: I have no connection to any organizations mentioned on this site.

Site contents copyright 1996-2000 by Donald Laird - all rights reserved

Send comments to:
Donald Laird