Niantic Hotel (Building)
California State Historic Landmark 88
---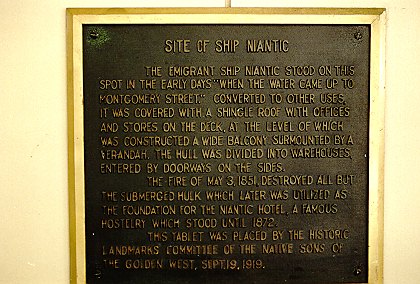 07/26/95
#088 Site of Ship Niantic
The emigrant ship Niantic stood on this spot in the early days "when the water came up to Montgomery Street." Converted to other use, it was covered with a shingle roof with offices and stores on the deck, at the level of which was constructed a wide balcony surmounted by a verandah. The hull was divided into warehouses, entered by doorways on the sides.
The fire of May 3, 1851 destroyed all but the submerged hulk, which later was utilized as the foundation for the Niantic Hotel, a famous hostelry which stood until 1872.
---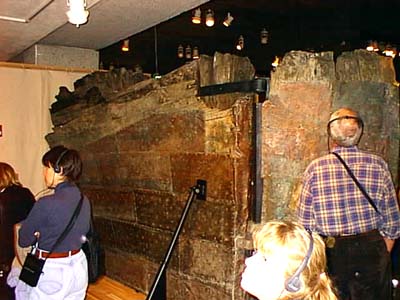 01/31/98

---
In lower level of Two Transamerica Center, 505 Sansome at Clay, San Francisco.

---
The above photo shows a portion of the hull of the Niantic as displayed as part of the California Gold Rush Sesquicentennial museum exhibit.
---

Return to other landmarks in San Francisco county.
---


Please note: I have no connection to any organizations mentioned on this site.

Site contents copyright 1996-2000 by Donald Laird - all rights reserved

Send comments to:
Donald Laird