Bass Hill
California State Historic Landmark 148
---
Plaque Photo: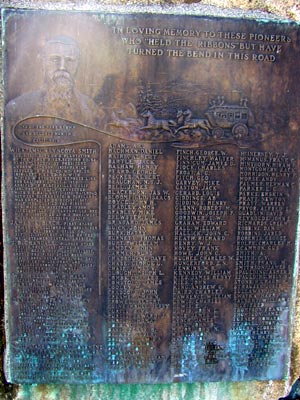 06/12/02
#148
In loving memory to these pioneers who "held the ribbons" but have turned the bend in this road
Williamson Lyncoya Smith, Aug. 6, 1830. Born on a plantation on the James River, Bedford Co. VA. named "Lyncoya" by President Andrew Jackson, 1832. Family settled in Poke Co. MO. Apr 25, 1850. Left Pike Co. MO with McPike & Strothers express line for California, Aug 6, 1850. Arrived in Placerville Calif, 1851. Continuously connected with U.S. Mail until 1892. Railroad between Sacramento & Portland was completed on Dec. 17, 1887. July 1854, carried the first U.S. mail on horseback, from Jacksonville, to Canyonville, Ore. May 31, 1902, died at his hime, West & Tehama Sts, Redding, Calif.
James E. Birch, first stage river in California & organizer of the California Stage Co, Sept. 12, 1857. Lost at sea on the mail steamer Central America.
J. B. Crandall, pioneer stage driver, from 1849, covering Calif. Ore. & Nev. June 11, 1857, drove the first stage over the Sierra Nevada Mts. Nov 24, 1872, eight miles from Los Angeles, thrown from his stage, was kicked by the wheel horse, ending his life.
W.F. Hall & W.H. Hall stage drivers from 1849.
Marshall McCummings Aug 1851, drove the first stage from Sacramento to Shasta. Monroe & Feld proprietors.
Daniel Masten Cawley July 14, 1825, born in New York. Sept 1, 1858, drove the first stage over the Siskiyou Mts for the California Stage Co. Dec 17, 1887, drove the first stage over Siskiyou Mts for the California Oregon Idaho Stage Co. Oct 16, 1901, died in Yreka, California.
Andrew Jackson Bacon
Joseph Henry Bacon
This stage driver's monument marks the Scaramento River Road where it connects with U.S. Hwy 99.
Erected by Mae Helene Bacon Boggs, niece of Williamson Lyncoya Smith, Bass Hill, August 6, 1930, centennial of the birth of Wm Smith.
---
Site Photo:


Nothing remains of this site.

---
Location:
Bridge Bay Resort parking lot, Bridge Bay exit off I-5, 6 mi N of Central Valley.
GPS coords: 40° 45.269 N/122° 19.376 W



Return to other landmarks in Shasta county.
---


Please note: I have no connection to any organizations mentioned on this site.

Site contents copyright 1996-2002 by Donald Laird - All rights reserved

Send comments to:
Donald Laird