Picacho Mines
California State Historic Landmark 193
---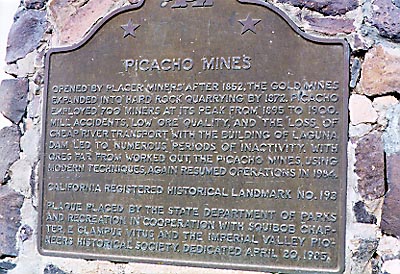 #193 Picacho Mines
Opened by placer miners after 1852, the gold mines expanded into hard rock quarrying by 1872. Picacho employed 700 miners at its peak from 1895 to 1900. Mill accidents, low ore quality, and the loss of cheap river transport with the building of Laguna Dam led to numerous periods of inactivity. With ores far from worked out, the Picacho Mines, using modern techniques, again resumed operations in 1984.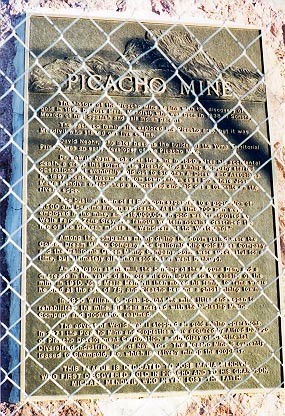 05/21/98
#193 Picacho Mine
The history of the Picacho Mine begins with the discovery of gold in 1869 by Jose Maria Mendivil, who was born in 1838 in Sonora, Mexico of half Spanish and half Indian parents.
The Pacheco family also explored the Picacho area, but it was Mendivil who staked out five claims.
David Neahr, who later became the builder of the Yuma Territorial Prison, was an early developer of the Picacho Mine.
Dr. DeWitt Jayne took over the mine in 1880. After his accidental death, a group that formed the Picacho Gold Mining Company started operations but eventually sold out to Stephen A. Dorsey and Associates. By 1897 Picacho became a boom town known as El Rio where Jose Maria Mendivil established a homestead and laid out a townsite on the river's edge.
The bustling town of El Rio soon expanded to a population of 2,500 andbecame known as Picacho. At that time 700 men were employed in the mine, and $15,000,000 in gold was transported by Wells Fargo. ZaneGrey, the famous western novelist, described the life of the Mexican miners in "Wanderers of the Wastelands."
Among the companies mining during the boom period were the Golden Dream Mining Company, the California King Gold Mines Company, and the California Queen Mining Company. Some were successful for a time, but ultimately all either sold out or went bankrupt.
An explosion at the mill, the building of the Laguna Dam, and a decrease in the value of the ore all contributed to the closing of the mine in 1910. Jose Maria Mendivil then moved his family to Yuma where he died at the age of 78, and Picacho became a ghost mining town.
In 1930 William C. Doak bought the mine titles and began to rehabilitate the mine. His heirs merged with the Nipissing Mining Company and production resumed.
The advent of World War II stopped all gold mining operations. In 1971 the Picacho Mine and properties were acquired by Alfred Dallago of Picacho Development Corporation, a subsidiary of Continental Diversified Industries, Inc. of New York. The Picacho Mine is currently leased to Chemgold, Inc. which is acticely mining the property.
This plaque is dedicated to Jose Maria Mendivil who first discovered gold in Picacho and to his grandson, Michael Mendivil, who never lost the faith.
---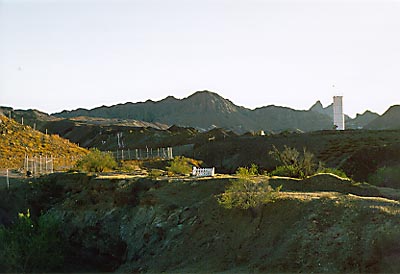 05/21/98

---
Site located Picacho Rd, 14.5 mi after pavement ends, approx. 18.2 mi N of Winterhaven; plaque located .4 mi N of site..

---
---

Return to other landmarks in Imperial county.
---


Send comments to:
Donald Laird