Jamestown
California State Historic Landmark 431
---
Plaque Photo: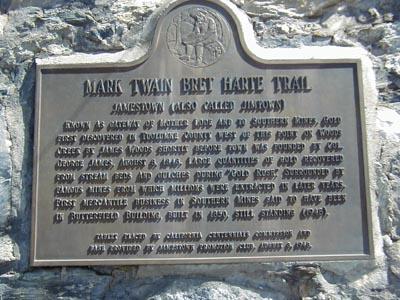 05/26/96
#431 Mark Twain Bret Harte Trail
Jamestown (Also Called Jimtown)
Known as gateway of Mother Lode and to southern mines, gold first discovered in Tuolumne County west of this point at Woods Creek by James Woods shortly before town was founded by Col. George james, August 8, 1848. Large quantities of gold recovered from stream beds and gulches during "gold rush." Surrounded by famous mines from which millions were extracted in later years. First mercantile business in southern mines said to have been in Butterfield Building, built in 1850, still standing (1948).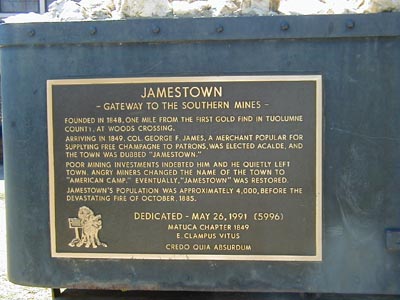 05/26/96
#431 Jamestown
- Gateway to the Southern Mines -
Founded in 1848, one mile from the first gold find in Tuolumne County, at Woods Crossing.
Arriving in 1849, Col. George F. James, a merchant popular for supplying free champagne to patrons, was elected Alcalde, and the town was dubbed "Jamestown."
Poor mining investments indebted him and he quietly left town. Angry miners changed the name of the town to "American Camp." Eventually, "Jamestown" was restored.
Jamestown's population was approximately 4,000, befor the devastating fire of October, 1885.
---
Site Photo: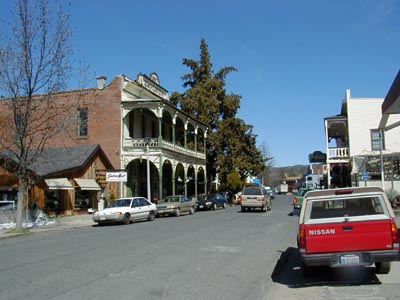 05/26/96

---
Location:
NE corner of Main and Donovan Sts, Jamestown.



Return to other landmarks in Tuolumne county.
---


Send comments to:
Donald Laird