De Anza Crossing of the Santa Ana River, 1775 and 1776
California State Historic Landmark 787
---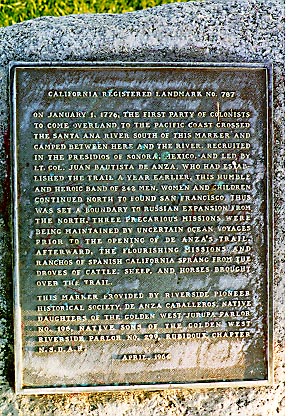 05/22/98
#787
On January 1, 1776, the first party of colonists to come overland to the Pacific coast crossed the Santa Ana River south of this marker and camped between here and the river. Recruited in the presidios of Sonora, Mexico, and led by Lt. Col. Juan Bautista de Anza, who had established the trail a year earlier, this humble and historic band of 242 men, women, and children continued north to found San Francisco. Thus was set a boundary to Russian expansion from the north. Threee precarious missions were being maintained by uncertain ocean voyages prior to the opening of de Anza's trail. Afterward, the flourishing missions and ranchos of Spanish California sprang from the droves of cattle, sheep, and horses brought over the trail.
---


Nothing remains of this site.

---
Near Union Pacific bridge, Jurupa Heights; plaque located between clubhouse and #1 tee, Jurupa Hills Country Club Golf Course, 6161 Moraga Ave, Rubidoux.



Return to other landmarks in Riverside county.
---


Send comments to:
Donald Laird